I have been thinking about the china pieces I need for my Mad Hatter's Tea Party.
There will be ten settings which means ten of everything, plus at least six teapots, plus sugar bowls and milk jugs.
I have googled and googled in an attempt to find the right china remembering that my scene is very closely adapted from the original look.
Now if the unredeemed Lottery Ticket belonged to me I would not hesitate in commissioning everything by the Japanese artist
Miyuki Nagashima. I haven't been able to find a website for her but there are lots of examples of her work if you google her name and pick images.
I have seen her pieces at the Kensington Dolls House Festival on a number of occasions and it is simply gorgeous.
There is also the wonderful work of Teresa Welsh of The China Closet.
Teresa sells on Ebay I have recently discovered and I have long admired her beautifully hand painted pieces. I am not sure if she accepts commissions but I don't think my budget will stretch as far unfortunately.

Then there is Stokseyware, whose work I love. It is very delicate and beautifully scaled but can I really justify £23 for just one cup and saucer when I need ten? Of course if this was my one project I would not hesitate but I have lots of projects.
I have searched for a miniature china maker whose pieces are more in my price range but have failed miserably. I am now thinking that my only route is Reutter. Not as beautiful as Stokeseyware obviously, and certainly not as delicate, but in a price range that I can justify. Remembering that the plates are for show, it will be the cakes and characters that will be stealing the scene.
There are quite a few designs by Reutter : Yellow French Rose,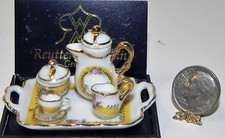 Gold Crosshatch,

Blue Onion....
....are I think my favourites and seem to be pretty easy to get in the UK although they are also available in the US.
I think the Reutter yellow set is the front runner at the moment.
I might just have to bite the bullet and buy one set just to see the quality and scale.
Amazingly I am off to Chicago in April to visit the miniature shows that are held there. Persuaded the husband that we just had to visit Chicago before flying on to Calafornia! So my plan is to wait until I go to these shows before making a decision on the china.
Any thoughts or favourite china maker links most gratefully recieved.